Click on each update for more information…
We are very pleased to offer the Scioto Advantage Health & Wellness Center to covered employees and their dependent spouse and children over two years old in the medical plan.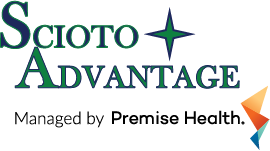 Get care for your sore throat, a cold or the flu and help with high blood pressure or diabetes. Your facility will treat both acute and chronic conditions, all at no cost to you.
No deductibles or copays for visits.
No cost for onsite lab work, physicals, and Biometric Screening/Health Risk Assessment (HRA).
No cost for available generic medications dispensed onsite.
Short or no time in a waiting room.
Schedule appointments online with your computer, smartphone or tablet, or by calling the 24/7 support center.
TeleVisits
Secure, confidential and private.
Locations
Scioto Advantage Health & Wellness Center (New Boston)
3879 Rhodes Ave
New Boston, OH 45662
Phone: 740.736.5211
Fax: 740.354.0293
Scioto Advantage eHealth Center (Paint Valley)
7454 US Rt 50
Bainbridge, OH 45612
Located inside Paint Valley High School
Phone: 740.736.5211
Fax: 740.634.3586